When it comes to making your Sunset Cliffs home feel truly like your own, there are plenty of creative and fantastic steps you can take to give your home that extra special touch. While
decorating and designing the interior of your house
might feel like an overwhelming or complicated task, it truly doesn't have to be. Plus, it is something so easy that you don't have to hire an expert to do it either. Embrace your inner interior designer and discover the style and themes that are right for your gorgeous home.

Whether you are wanting to do a full-scale renovation or make minor decor changes, here is how you can transform your house into the home of your dreams.
1. Own your style

One key aspect to remember when decorating your home is to take your time and don't feel like you must complete this tremendous project in a rush or by a certain deadline. Allow yourself to dream and consider what looks will be the most striking and appealing for the specific spaces in your house. Another important factor to keep in mind is to embrace and own your style. After all, this is your home and you can make it whatever you want it to be. There is no one-size fits all approach to designing your house so feel free to decorate it however you like. This is an incredibly thrilling prospect!

Give yourself the permission to embrace your personality, style, and favorite colors, and incorporate aspects of your life and passions that are important to you. For example, if you love traveling and have collected paintings from every country you have visited, why not hang these up? Some good questions to ask yourself are: what do you want the overall vibe and theme of your house to be? How do you want to make your spaces welcoming, warm, and charming? Whether your personality is bold and daring or calm and serene, this is the perfect opportunity to reflect on how you want to include your personality in the design. Perhaps this means choosing bright colors or adding signature decors such as ocean landscapes or black-and-white photographs. Feel free to get creative and make your design dreams a living, breathing reality.
2. Use a vision board
If you are not sure where to begin, how about creating a vision board with examples of your favorite colors and decor ideas? Gather inspiration from Pinterest boards, Instagram, paint samples, or magazine cutouts. Having these pictures physically right in front of you will help you visualize how it could possibly look. Additionally, it will unleash and fuel your creativity as you continue planning and dreaming. Take your time with this vision board and feel free to live with it for a while, allowing yourself to grow used to the colors and designs. Adjust and change the board as needed. Will these colors, designs, and patterns fulfill the dream for your home? Do they make sense for you and your lifestyle? And, just as equally important, are they an accurate reflection and representation of your values? For example, if you are a book lover or musician, perhaps you can include these aspects in your design. After taking this inventory, you can make your order sample selections thoughtfully and slowly.
3. Order samples
Ordering samples is an essential first step in the process for home designers and decorators everywhere. This can be an easy step to miss or overlook altogether. In the excitement to get started and anticipation of what the finished product will look like, many home designers may simply want to just jump in.
Still, taking the time to
order samples
will make things much smoother further down the road and save you from making decisions that you might regret later on. For example, a sample will give you a better visual of what a color, fabric, material, or texture might look like in your house. Furthermore, it gives you a more clear idea of how it fits into your overall plan and design for your home. This is incredibly worthwhile because you want to make sure the colors make sense together and create a unifying harmony throughout the entire layout of the house. Far from a waste of time, carefully choosing samples may be one of the most important steps you can take in this unique design process.
4. Select your colors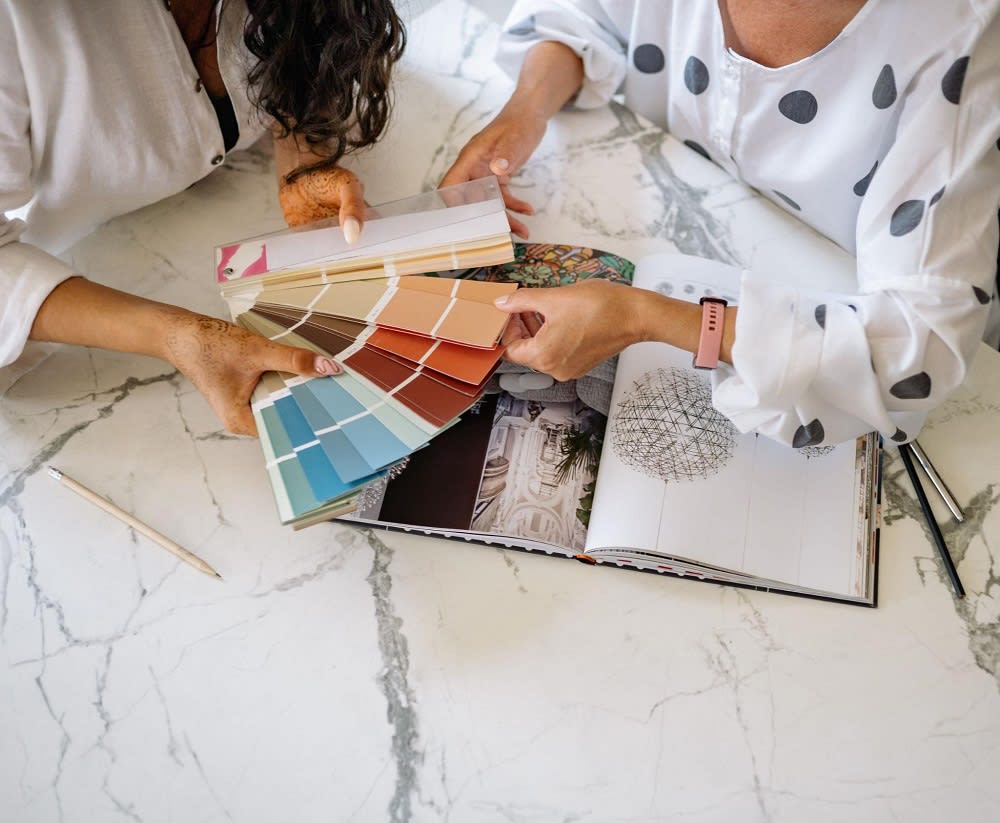 Are you ready to embrace your exciting and unique sense of style? A great way to do this is by choosing colors that will embody the atmosphere you want in your home. These colors can include everything from the paint on your walls, couch pillows, curtains, candles, or furniture. Additionally, they can make up the patterns and themes throughout the room and the entire house.
While you certainly can have different colors and designs in each individual room, you might also want to consider harmonizing colors and features that will bring a sense of unification to your home. For example, if you want your kitchen to feel warm, friendly, and welcoming, a gentle yellow hue might be a good one to go with. Or maybe you want to include your love for the desert or mountains into your design, then you might decide to go with colors such as browns, yellows, grays, blues, or greens. Additionally, when you move into the decor phase, you can select pillows, paintings, candles, and plants that further strengthen and highlight your chosen designs. According to experts,
three colors are always better than two
. The reason is that the diversity in colors gives you more room to work with and flexibility as to what you can do.
5. Consider your furnishings

Take time to consider the furniture you want in each room and contemplate how it will look. For example, if you have a large living room then a bigger sofa and extra chairs might make sense to give the room a full fill. However, you want to make sure the furniture fits well into the specific rooms and does not cause it to become too crowded or cramped. Rooms like the kitchen serve incredibly practical purposes and come with many of their own furnishings already such as a fridge, sink, countertops, etc. Other rooms such as bedrooms or living rooms can be more tricky to navigate. Lots of furnishings can look appealing and make sense in these rooms. Once again, refer to your idea board and take your time in placing and arranging the furniture.
6. Create cozy spaces
There is nothing quite like walking into your home and feeling relaxed and at ease. You want your house to be a refreshing and nurturing haven away from the rest of the world. As you go about the all-important task of designing and decorating, make sure to create cozy and welcoming spaces. Plus, this adds to the overall character and warmth of your home. This is especially a great way to make the most of window seats, little nooks, or unused spaces that you aren't sure what to do with.
7. Make the most of your space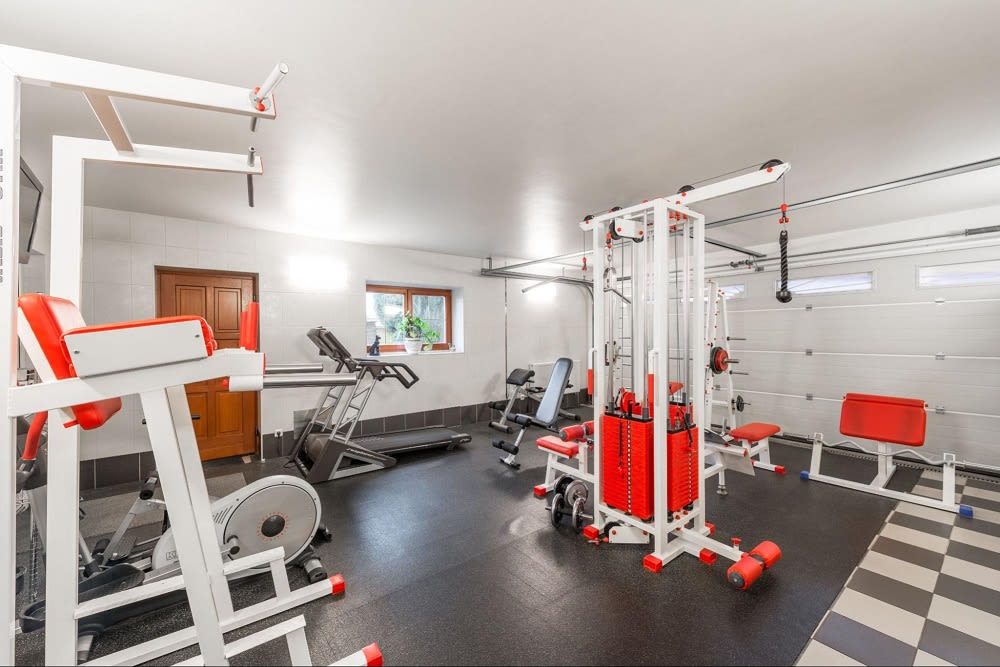 If you have an extra room that isn't currently fulfilling a purpose, how about turning it into a library, plant room, art gallery, or home gym? Or do you have a random window seat that would make the ideal reading spot? Put a throw blanket on the seat, add a decorative basket, and fill it with your favorite paperbacks. This will add to the personality of your home and give it an extra charm factor as well.
8. Add seasonal signatures
Depending on the season, another great idea is to add seasonal flourishes. From leaf arrangements in the fall to a holly arrangement with candles in the winter, there are lots of great ways to add zest and color to your spaces. In the spring and summer, put flower bouquets in vases and up your house plant game.
Are you looking for more interior design tips or want to learn about specific property listings in the Sunset Cliffs area? Feel free to contact
Tami Fuller & Associates
for all your Sunset Cliffs luxury house and real estate needs. She would love to show you some of the beautiful houses on the market and guide you through the exciting process of finding the right one that suits your needs. Get started today in finding the perfect home of your dreams!